ISO 9001 : Quality Management System
ISO 9001:2000 is the world's most successful standard addressing best practice in the application of quality management systems. The standard is based around the principles of customer satisfaction, continual improvement and the development of a process based quality management system.
Although not referenced in the standard itself the ISO 9001:2000 document is underpinned by eight key quality management principles;
A Customer Focused Organisation
Leadership
The Involvement of People
Ensuring a Process Approach
A Systematic Approach to Management
A Factual Approach to Decision Making
Mutually Beneficial Supplier Relations
Continuous Improvement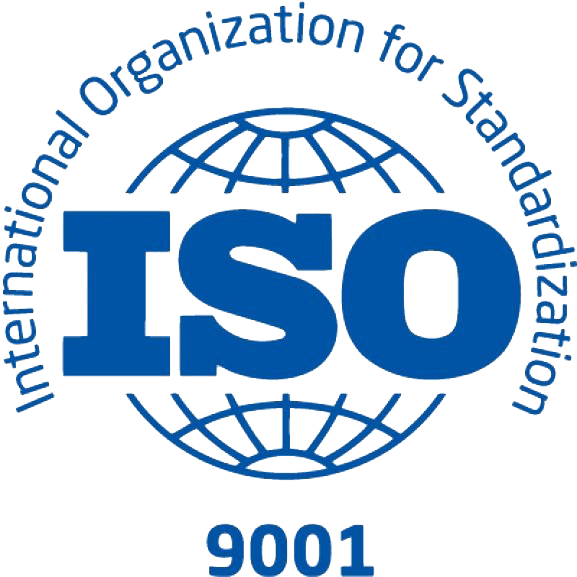 ISO 9001:2000 has been written to ensure that its guiding principles are equally relevant to all sectors of industry and to all types of organisation. Although containing requirements to control the key processes within an organisation, it only requires six documented procedures. The standard emphasises the need for an organisation to continually monitor their own processes and systems, with many clauses making reference to self monitoring or measurement or both. This emphasis aims for an integrated approach to business processes. Instead of operating to a business plan on one hand and a quality management system on the other, the standard aims to integrate both of these functions into one system.
What is a quality management system?

ISO 9001:2000 is a standard that specifies criteria for a quality management system (QMS). A QMS incorporates those elements of an organisations management system that direct and control it with regard to quality. Such a system will need to be supported by top management who will need to be able to demonstrate management commitment.

How do you demonstrate management commitment?

Management commitment is one of the cornerstones of ISO 9001:2000, requiring top management to develop and improve the QMS throughout the organisation. This commitment can be demonstrated by a number of methods including creating a quality policy, conducting management reviews and establishing quality objectives.

What is a quality policy?

ISO 9001:2000 specifies that an organisation must have a quality policy that documents the organisations overall intentions and direction related to quality as formally expressed by top management. Such a policy will include a commitment to comply with ISO 9001:2000, to continuously improve the QMS and to set and monitor measurable quality objectives.

What are quality objectives?

The quality objectives are those targets sought or aimed for by the organisation that are related to quality. These quality objectives must be SMART (suitable, measurable, achievable, reviewed and timely). Examples of quality objectives might be; to reduce machine down time by 20% or to reduce rework costs by £500 p/m. Whatever quality objectives are chosen they must be meaningful and adequately resourced by the organisation.

What is a management review?

A management review is a key element of how the top management of an organisation can assess its performance in terms of the objectives it sets itself, the requirements set by the standard and how its systems are operating. Normally, a management review is a regular meeting of the top management team and uses the information that the organisation's systems have derived. It is a useful forum to review and revise quality objectives.

What are internal audits and why do I need to carry them out?

Internal audit is one of the key monitoring processes required by the standard and functions as a check on the organisation's systems. It is the opportunity for an organisation to determine compliance to the systems it has established and maintained to meet the needs of its customers and identify opportunities for improvement. Internal audit can be seen as a 'health check' for an organisation.

The 'core' of ISO 9001:2000, Product realisation

Clause 7 of ISO 9001:2000 contains the core processes that most organisations carry out. Any clause or sub-clause in section 7 can be excluded from an organisations quality management system if it can be justifiably excluded. Examples of common exclusions are clause 7.3 design and development, clause 7.5.3 traceability and clause 7.6 the control of monitoring and measuring devices. Clauses can only be excluded if their exclusion does not affect the company's ability to provide a product or service that meets customer requirements. These core processes should be managed and controlled via the quality management system, and are evaluated for effectiveness and suitability by the internal audits with feed back into the management review. This is a clear demonstration of one of the key principles of ISO 9001:2000, continuous improvement by critical self-evaluation. The output from the self-evaluation is fed into a planning stage to determine actions needed to improve the system. Following the planning and consultation comes the action phase where the proposed changes are implemented. Then the cycle starts again by checking that the changes are effective and meaningful by self-evaluation.
Other requirements of section 7 are;
Product planning to ascertain and then implement the necessary controls and resources to ensure product realisation. Purchasing control to verify purchased product against comprehensive purchasing information and the selection and evaluation of suppliers. Production and service provision to ensure that this activity is carried out in controlled conditions and that any processes that cannot be verified during production are validated to ensure capability. Where appropriate the product must be identified, and if required, traceable at all stages of production. Any customer property must be identified and protected from harm and all products must be stored and handled in such a way to preserve product conformity. Any monitoring and measuring devices needed to provide evidence of product conformity must be identified and if necessary calibrated.
But what about the customer?

All of the clauses in ISO 9001:2000 are in some way focused towards meeting and exceeding the customer's expectations. For example the requirement of management to determine and communicate the importance of customer requirements throughout the organisation, and the review of customer orders to ensure that they can be met. Companies are required to implement methods for effective communication with the client at all stages of the business including ascertaining customer satisfaction after the product or service has been delivered as well as resolving customer complaints.
Finally…..
ISO 9001:2000 is widely acclaimed as being the pre-eminent specification for quality management systems, it requires a company to look at itself and ask the question, 'how can we improve?' An ISO 9001:2000 management system should be an essential part of any business process, requiring continual improvement by self-evaluation with a goal of ensuring that current and future customer expectation can be met and exceeded.