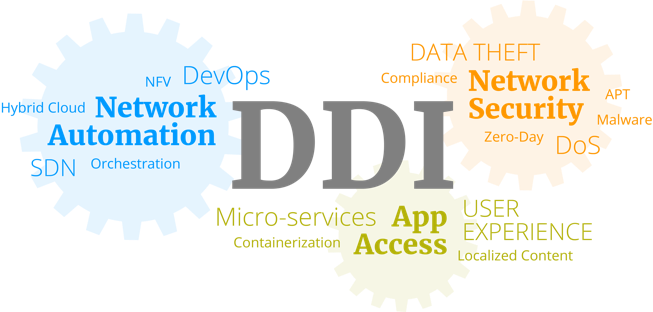 ---
EfficientIP enables IP-based communication, simplifies network management and enhances operational efficiency thanks to global visibility, consistency control and smart automation of DDI (DNS-DHCP-IPAM). We secure DNS services to safeguard data confidentiality, protect users and ensure application access in cloud and on-premise.
Book a Demo

Smart DDI
Unify and automate DNS, DHCP and IP Address Management for 80% time savings

360° DNS Security
Detect threats – protect apps, users and data – Remediate Faster

Virtualization & Cloud
Empower advanced orchestration and automation with easy ecosystem integration

Network Automation
Gain visibility and control with dynamic discovery and management automation of your networks
---
Key Features
EfficientIP SOLIDserver appliances help organizations transition to automated and secure network infrastructures with easy to manage, scalable and highly resilient core network foundations.

Single Pane of Glass
Get global visibility of IP devices, virtual machines and DNS-DHCP server configurations across on-prem networks and cloud platforms due to dynamic network repository providing single source of truth

Comprehensive DNS Defenses
Detect attacks hidden in DNS traffic with threat intelligence and context-aware adaptive security, to protect from internal and external menaces

DNS & DHCP SmartArchitecture™
Simplify design, deployment, and management of multi-vendor DNS & DHCP servers with state-of-the-art flexible architecture templates

Network and Security Ecosystem Integration
Connect with third-party applications, orchestrators and cloud platforms using plug-ins and flexible APIs
---
Have any questions?
Book A Demo/Meeting with us
Book a Demo