The Blue Coat Security Platform
Blue Coat is a leading provider of advanced web security solutions for global enterprises and governments. Our mission is to protect enterprises and their users from cyber threats – whether they are on the network, on the web, in the cloud or mobile.
Some companies know the network inside and out.
Other companies are steeped in security threats and protections.
Yet other companies live and love the cloud.
---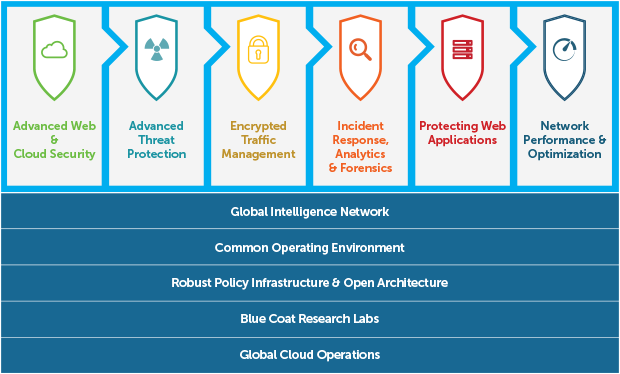 Through the Blue Coat Security Platform, Blue Coat unites all three, helping you get maximum protection for your complete computing environment – while minimizing impact on network performance and enabling you to fully embrace cloud applications and services.
Comprehensive Network & Cloud Security
Our unrivaled capabilities as a network + security + cloud company make us uniquely qualified to deliver a security platform to 15,000 organizations worldwide, including over 70% of the Fortune Global 500. The Blue Coat Security Platform can help you manage the complexities of several massive shifts taking place in your computing landscape, which stand to yield unprecedented value and equally challenging threats at the same time:
Evolving Networks The strictly defined corporate network as we've known it for many decades is nearing extinction. New connectivity options have emerged. Encrypted traffic is everywhere, creating blind spots for security controls. And the traditional perimeter is dissolving, as Wi-Fi and 4G/5G and cloud services foster new work patterns.
Migration to Cloud Critical data was traditionally guarded carefully to ensure it never left the highly secure corporate boundaries. Now we live in a world of public, private and hybrid cloud infrastructure – with people accessing a mix of cloud-based apps and services requiring data protection across multiple premises (some owned and some not).
Endpoint Revolution Laptops and desktops used to be the dominant computing form factor, which made the "endpoint" easier to protect. Not so much with the new generation of devices – from smartphones and tablets to thermostats, cars and other "things" connected to the Internet – many of which can't install and maintain traditional endpoint controls. This expanding attack surface demands a different control point.
Blue Coat delivers an integrated security platform that addresses these evolving ,network + security + cloud requirements – with six advanced solutions that work equally well across on-premise and cloud-managed environments:
Proxy-based traffic inspection and policy enforcement
Encrypted traffic management
Advanced threat protection
Incident response, analytics & forensics
Web application protection
Network performance optimization
Network operators endorse the Blue Coat Security Platform because it delivers security that actually improves performance, including "five 9s" reliability and in-line traffic inspection at real network speeds. Security teams trust us to deliver advanced security features, deep payload inspection and complete data visibility – even within encrypted traffic. And cloud teams value our native cloud service broker, which uses the power of the cloud to protect infrastructure, applications, services, and data for a variety of delivery models.
The Blue Coat Security Platform offers a comprehensive solution that combines the functional benefits of multiple products, without the overhead associated with deploying multiple solutions.
---