Threat Intelligence Management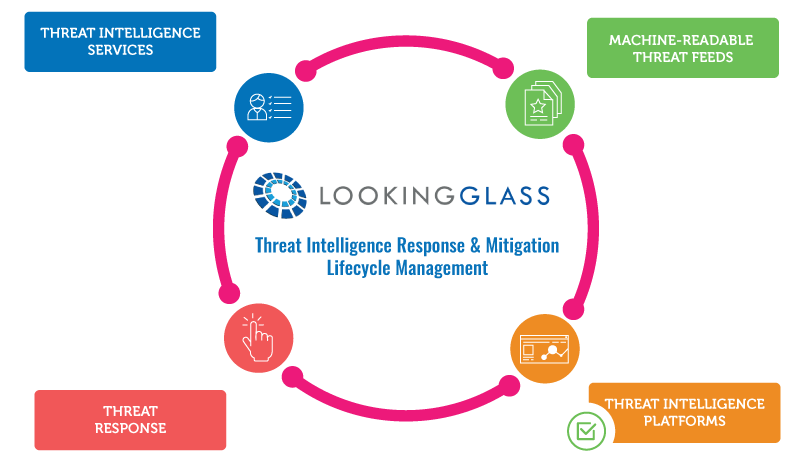 Overview
LookingGlass Threat Intelligence Platform (TIP) integrates the world's leading collection of threat data,
turning an overwhelming aggregation of information into usable, actionable threat intelligence.
---
Threat Intelligence Services
ScoutPrime
It takes people – analysts with the right understanding of not just technical issues, but of your company, your business, your challenges, and your industry. As the volume of data, business risks, and adversaries continues to grow, the shortage of human cycles and the availability of talent have become critical constraints. LookingGlass offers multiple tiers of intelligence analyst support services to help you fill the gaps in your threat intelligence operations.
Learn More
ScoutVision
LookingGlass™ ScoutVision™ provides comprehensive and relevant actionable risk information, streamlining workflows, dramatically increasing incident response, security operations, and threat intelligence analyst efficiency. ScoutVision combines real-time global Internet intelligence with hundreds of correlated threat data feeds summarized in a simple but powerful workspace.
Learn More
---
ScoutInterXect
LookingGlass ScoutInterXect™ fuses internal enterprise network telemetry with real-time and historical ScoutVision global threat and Internet intelligence information. This innovative blending of data delivers enhanced visibility for security forensics and faster incident response actions by security professionals.
Learn More
Cyber Threat Center
LookingGlass Cyber Threat Center™ offers an intuitive, yet powerful, interface to manage data collection and efficiently exploit and analyze a wide range of sources, languages, and document formats in one place. You can also configure and customize unlimited searches, filters, rules, and alerts.
Learn More
---
Virus Tracker
LookingGlass Virus Tracker® is a global botnet monitoring system, based on "sinkholes": sensors that listen on the Internet for virus infections 24 hours a day, 7 days a week. Virus Tracker has billions of historical infection records dating back to 2012 and identifies over 3 million new malware infections every day.
Learn More